Spaghetti squash is a wonderful replacement for all of the various grain-based spaghettis that are normally combined with Italian recipes. This type of squash has much less calories (50 calories per 100 grams), way more fiber, and is extremely low on the glycemic index (which is great for everyone, and most especially those with diabetes).
It also has a packed nutritional panel consisting of Nitrogen, Phosphorous, Potassium, Calcium, Magnesium, Sulfur, Boron, Copper, Iron, Manganese, and Zinc. This squash varietal also contains beta-carotene, lutein, and zeaxanthin which have been associated with keeping one's vision health, among many other health benefits that these nutrients bring with them. Beta-carotene specifically has been shown to be beneficial for lowering cholesterol levels and has been helpful to those with insulin resistance.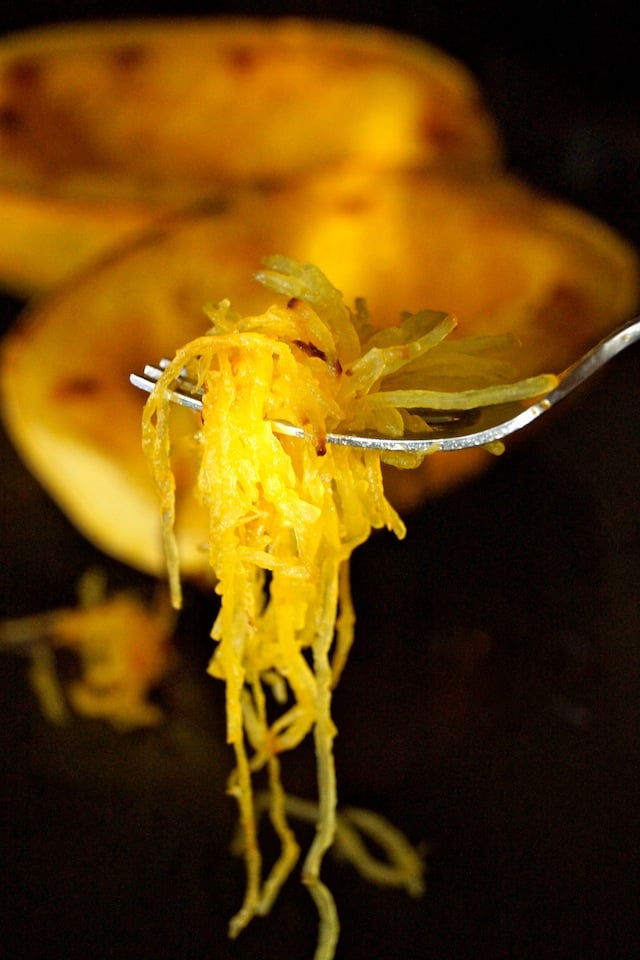 | | |
| --- | --- |
| Nutrient content | |
| N (%) | 1.77 |
| P (%) | 0.36 |
| K (%) | 3.86 |
| Ca (%) | 0.42 |
| Mg (%) | 0.18 |
| S (%) | 0.21 |
| B (ppm) | 31.5 |
| Cu (ppm) | 8.54 |
| Fe (ppm) | 26.0 |
| Mn (ppm) | 6.26 |
| Zn (ppm) | 20.9 |
| Fruit quality | |
| Fructose | 1.36 |
| Glucose | 1.35 |
| Sucrose | 0.35 |
Energetics:
Winter squash has the most concentrated source of alpha-linolenic acid (ALA) of all vegetables. ALA is an omega-3 essential fatty acid that is very good for heart health.  The deep yellow and orange colors of the winter squashes are a reflection of its carotenoid phytonutrients—alpha-carotene, beta-carotene, lutein, zeaxanthin and beta-cryptoxanthin—content. In addition to the phytonutrients, winter squash also is an excellent source of vitamin A and vitamin C, antioxidants that benefit overall health, including heart health.  The vitamin A in winter squash is not just an antioxidant, it is an important nutrient for lung health, as it is essential for the growth and development of the tissues that line the lungs.
Spaghetti squash is also a good source of dietary fiber, potassium, folate, vitamin A, C, B6, B1 and B5, niacin, thiamin, manganese, copper, and tryptophan.
Spaghetti squash is warming in nature.  It influences the spleen-pancreas and stomach, reduces inflammation and burns (fresh squash juice is applied to relieve burns), improves qi-energy circulation, and alleviates pain.  Squash and its seeds can be used to destroy worms, though seeds are the most effective. For parasitic worms, eat a small handful of the seeds of a winter squash once or twice daily for 3 weeks. Compared to summer squash, winter squash has higher amounts of natural sugars, carbohydrates, and vitamin A.
Lasagna Stuffed Spaghetti Squash Recipe

Prep Time: 10 minutes
Cook Time: 1 hour
Total Time: 1 hour, 10 minutes
Yield: 4 servings
Serving Size: 1 squash half
Ingredients:
2 medium spaghetti squash
2 tablespoons olive oil, divided
salt and pepper
1 onion, chopped
4 cloves garlic, chopped
20 oz 99% lean ground turkey breast (you can also use the 93-94% or 96% lean ground beef)
1/4 lb chicken or turkey sausage, sliced
1 lb can crushed tomatoes
2 teaspoons dried or finely chopped fresh oregano, divided
2 teaspoons dried or finely chopped fresh basil, divided
2 teaspoons crushed red pepper flakes, optional
1/2 cup part skim ricotta cheese
1/2 cup nonfat cottage cheese
1 cup shredded part skim mozzarella cheese
Instructions
Preheat oven to 400. Slice spaghetti squash length wise and scrape out the seeds. Rub 1/4 tbsp olive oil into each squash half and season with salt and pepper. Place each spaghetti squash half face down in a large baking dish and bake for 40-60 min. When squash is done, middle will be tender and pull apart easily.
In a large pan, sauté onion and garlic in 1 tablespoon olive oil over medium heat until fragrant. Add ground turkey. Season with a generous pinch each of salt and pepper. Cook until browned. Add sausage, crushed tomato and 1 teaspoon each basil and oregano. When sauce starts to bubble, reduce heat to a simmer until thickened (about 3-4 minutes).
Meanwhile, combine ricotta and cottage cheese in a medium bowl. Season with 1 teaspoon each basil and oregano. Add a pinch each of salt and pepper. Lightly mix until combined.
When spaghetti squash is fully cooked, flip in the baking dish so that it is now skin side down. Evenly divide ricotta mixture between each squash half. Repeat with meat sauce. Top each half with 1/4 cup mozzarella cheese.
Turn oven to broil, and cook for another 2 minutes, until cheese is browned and bubbling. This happens very quickly–make sure to watch closely, otherwise it can burn easily. Serve immediately. Leftovers may be refrigerated in an airtight container for up to one week.
Notes
The sauce is very forgiving. Add/subtract whatever spices you like to get your desired flavor. I used a spicy (pre-cooked) chicken sausage, but you can use whatever flavor you like.
Resources:
http://thescienceofeating.com/2014/12/24/benefits-of-spaghetti-squash-2/
https://hort.purdue.edu/newcrop/ncnu02/v5-445.html
Recipe: http://arismenu.com/lasagna-stuffed-spaghetti-squash/