Summer squash is about to be in season! Technically, these squash varieties are available year round. They are delicious raw, but they are more frequently cooked. They are watery and crispy raw, and soft and butter when cooked. They take on all seasoning flavors and have their own unique, delicate taste plain. They are perfect for summer grilling! Throw them on the grill and cook until soft and translucent.  Eat them in a veggie sandwich or as a side to a fish or chicken platter. They are great with eggs and tofu scrambles. Our favorite way to eat them is sautéed with kale and onions.
Summer squash is high in antioxidants. Steaming is the best method of cooking in terms of nutrient retention. Never boil or microwave, as this deactivates the antioxidants. They are great broiled, too. Summer squash is high in manganese, vitamin C, and vitamin A. To retain maximum nutritional value, eat the skin and seeds, as well. When selecting squash, select ones that feel heavy for their size and have soft, smooth rinds.  Handle summer squash with care, as any punctures can lead to decay.
Energetics: Regulates blood sugar, protects against type 2 diabetes, supports optimal fiber-intake, acts as a natural anti-inflammatory, promotes cardiovascular health, protects against age-related macular degeneration, prevents cataracts, supports prostate health, and provides anti-cancer benefits.
Our Favorite Summer Squashes
Sunburst Squash

Zucchini

Crookneck Squash

Also known as Pattypan Squash, cibleme (in French Creole cuisine), white squash, scallopini, and yellow squash (in Australia)

 Also known as Italian squash and courgette

Often used interchangeably with zucchini in recipes
Also known as yellow summer squash
Gluten-Free Savory Zucchini Fritters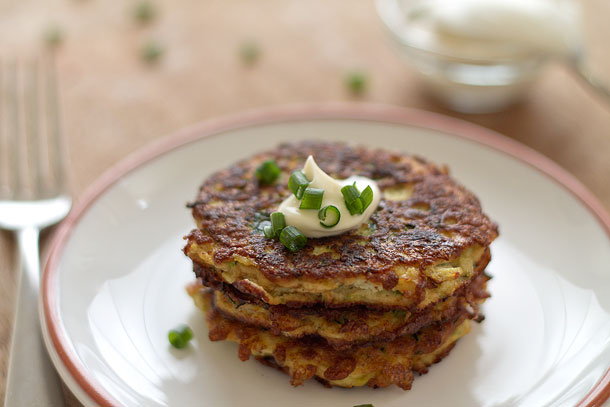 Prep time: 10 mins
Cook time: 10 mins
Total time: 20 mins
Ingredients
2 medium zucchini (about 350-400g)
2 green onions, thinly sliced (about 12g)
¼ cup almond flour
2 cage-free eggs
Sea salt and fresh-ground black pepper to taste
Oil for frying (suggested: walnut oil, avocado oil, or coconut oil)
Optional: 1 teaspoon lemon juice
Optional: ¼ cup parmigiana reggiano, freshly-grated (packed down, about 1 ounce or 28g) or grated cheese of your choice
Instructions
Grate zucchini with a medium-sized grater.
Add salt and place shredded zucchini in a clean dishtowel and squeeze to get as much liquid out of it as possible. It doesn't need to be completely dry, but try to get as much moisture out as you can.
Once squeezed, place back in bowl and add beaten eggs, thinly-sliced green onions, almond flour, parmigiana reggiano (optional), and fresh ground black pepper and mix thoroughly.(this is where you would add the lemon juiceif you choose to use it)
Heat 2 tablespoons cooking oil over medium heat, and wait for that pan to get super hot.
Once oil is shimmering, add spoonfuls of mixture to hot oil and fry until golden brown on each side, about 2-3 minutes per side.
Place on platter lined with paper towels to soak up any grease that sticks to the fritter and serve with sour cream and extra green onions or dipping sauce of your choice.
Sources
http://www.whfoods.org/genpage.php?tname=foodspice&dbid=62